Enhance your next river trip with a River MapBook

> Official topographic maps
> Enhanced with 3D shading
> Printed on waterproof paper
> Full colour
> A convenient size
> GPS-compatible grids

You get waterproof, full-colour maps, in a convenient size ready to drop into a map case and strap to your canoe or kayak, all spiral-coil bound so that they don't fall apart.
You will see exactly what you'd see on Canada's NTS TOPOGRAPHIC maps, your premier source for backcountry/wilderness mapping, all for a fraction of the price, and visually enhanced from added 3-D shading.

View a sample map and find out more.

You can identify towns, creeks, rivers, islands, valleys, peaks and other geographic features that you see along the way, just like if you had packed all the NTS maps with you.
AND use your GPS device to find your location, by referring to the UTM and Latitude/Longitude coordinate system grids.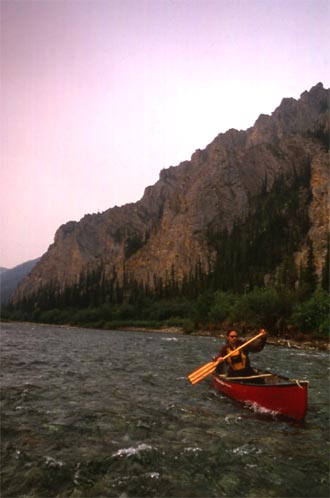 E. DeLong - Blackstone River, Yukon
July, 2004
(Photo: P. Mather)